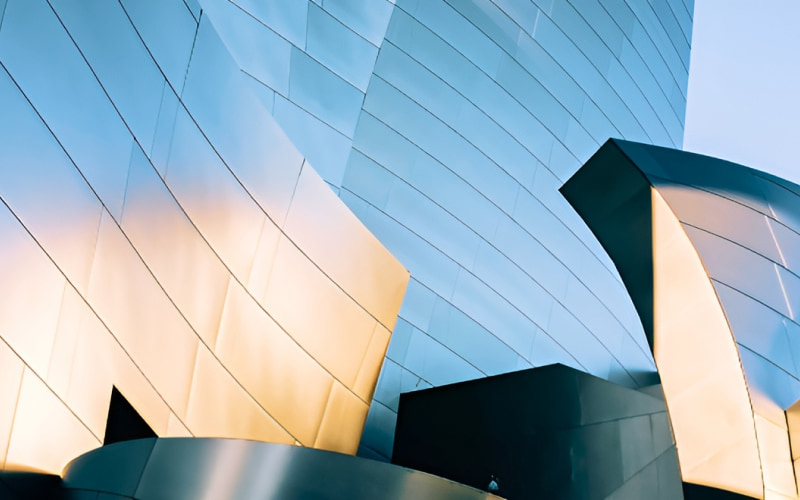 Architectural Metal and Plastic
We carry fabrication materials for structural applications in a number of shapes, including architectural sheet metal, that are used in both structural and decorative architectural applications. Architectural metals are normally more corrosion resistant and have an aesthetic finish unlike standard materials.

Architectural metals and plastics are used in a variety of applications including building structures, trim, commercial kitchens, roofing, railings, landscaping and decorative elements such as architectural metal screen panels. Our architectural metal supply can be cut-to-size and ordered with no minimums, to perfectly suit your fabrication needs.
---
Shop Architectural Aluminum
The versatility of aluminum is demonstrated in materials such as aluminum architectural screens made of perforated sheet that can be used for visual dividers, to structural applications such as architectural aluminum tube. With a range of alloys, finishes and tempers, aluminum is an easily fabricated all weather material for outdoor and indoor use. Architectural aluminum channel sizes range from small pieces for use in fabrication of fine objects including furniture, to substantial sizes used in building structures.

Additional visual applications for architectural aluminum include beautiful textured aluminum sheets as well as sturdy diamond plate. We offer a large range of aluminum structural bars, sheets, tubes and more, all cut-to-size at the most competitive prices.
---
Shop Architectural Steel
The architectural uses of mild steel apply to a range of project types. Commonly, structural steel tubing is used where high strength is needed. Structural mild steel tube is also bendable and easy to weld. If your project involves screens for privacy, security or steel fencing, we also offer expanded steel sheet in flattened or standard finish, as well as perforated and solid sheets, or tread plate options. For cut-to-size materials suitable to any project, make us your structural steel supplier today!
---
Shop Architectural Brass
Architectural brass is available in a range of alloys and shapes from yellow brass tube to red brass pipe and polished architectural brass fittings. While soft tempered sheet brass is popular for furniture applications, architectural brass angle, in equal and unequal sizes, is commonly used when sturdy structural applications are required. Whether your project involves machining architectural brass hardware or a kitchen remodel, we have the material selection you need.
---
Shop Architectural Bronze
Both Silicon Bronze 655 and commercial bronze 220 are good choices for architectural bronze applications. Common projects include use in doors, fountains and bronze architectural features such as sculptural panels. Our architectural bronze sheet and round bar offers excellent corrosion resistance and is available in sizes from thin, flexible sheets to sturdy plates.
---
Shop Architectural Stainless Steel
The excellent corrosion resistance of architectural stainless steel makes this material a popular choice in outdoor applications as well as for decorative applications. Architectural stainless steel tube is well-suited to structural applications, as well as architectural stainless steel angle, which is also relied upon for wall supports. Architectural cladding is also commonly made from stainless steel sheet, which is available in a range of grades. Architectural stainless steel grating, available in flattened and expanded sheet styles is also a common choice for structural security applications.
---
Shop Stainless Steel Handrails
Professional builders and DIY project managers all require sturdy materials. Stainless steel handrail products are perfect for indoor and outdoor installations. The Rigi-Grip exterior stainless steel handrail product is also suited for any wet area application, providing a tactile surface that is both attractive and safe. Our stainless steel handrail tube is available in several length options for custom project needs.
---
Shop Architectural Nickel Silver
Although this material has a decorative sliver finish, nickel silver actually contains no silver at all. For architectural applications, nickel silver is prized for its finish color and the malleability of the copper contents and the corrosion resistance of the nickel. Our nickel silver round bar and sheet materials are popular for architectural restorations, high end hardware, handrails and furniture fabrications.