770 nickel silver
770 Nickel Silver Product Guide
Applications | Specifications | Mechanical and Chemical Data
Overview
Nickel Silver is neither nickel, nor silver, it's mostly copper and zinc, though with some nickel alloyed as well. It's also often called German Silver for historical reasons, but again, it's not silver, and was not discovered by Germans. 770 nickel silver has good strength, a silvery appearance, and excellent resistance to corrosion and tarnish. 770 has exceptional solderability and good electrical conductivity. It is typically used for decorative and ornamental applications.
Common Trade Names
UNS C77000, CDA 770, C770, Albata, Alpacca, Argentann, German Silver, New Silver, Nickel Brass
Other Resources
Weight Calculator | Mill Test Reports


Products
Applications
Specifications
Mechanical Information

Density

Ultimate Tensile Strength

Yield Tensile Strength

Imperial
0.314 lb/in3
78,000-95,000 psi
64,000-93,000 psi
Metric
8.69 g/cc
538-655 MPa
441-641 MPa
Mechanical Information

Modulus of Elasticity

Shear Modulus

Melting Point

Imperial
17,400 ksi
6,670 ksi
1,840-1,930 F
Metric
120 GPa
46 GPa
1,000-1,050 C
Mechanical Information

Electrical Conductivity

Hardness Rockwell

Elongation at break percentage

Poissons Ratio

5.5% IACS
B87
5-24
0.28
The OnlineMetals.com difference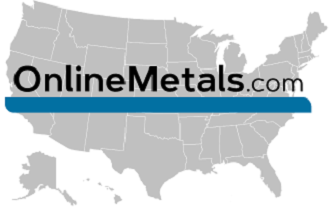 Nationwide Warehouse and Will Call Locations.

1-2 day ground shipping to 99% of U.S

Metal & Plastic Materials

Shop Online. No Minimums. Cut-To-Size Without the Wait.

FREE Mill Test Reports

Save on your Mill Test Reports and Certs of Conformance. They're always FREE at OnlineMetals.com.