New!

Stainless Steel Sheet/Plate Thicknesses
Popular Items Now Back in Stock!
‌
Why Choose Us?

Unique materials like Eco Brass.
No cut fees or minimums.
Continuously expanding catalog.

3-point inspection process.
MTRs available for free.
Top-rated mills and suppliers.

Our reliable team is here to help.
Can't find it? We'll source it for you!
Volume discounts available.

Same-day order processing.
6 order pickup locations across US.
Use your own UPS account.

"...They're quick to ship and always send me precision ground and very flat bars of metal.The brass, copper, and titanium is also top notch quality...." - Ryan with LCKT

"Prompt service, great prices, great website to find large selection of metal and shipment prices. Email responses are prompt." - Larry B

"I ordered some brass sheet custom cut...The material was cut accurately and quickly. The will call option was also helpful and the staff were professional." - Adam L
Learn More About Our Products
We Deliver Fast Shipping From 6 U.S. Locations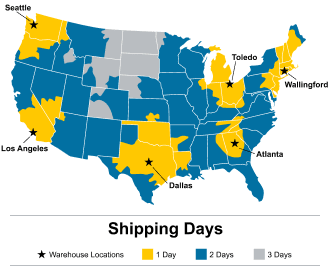 Nationwide Warehouse and Online Order Pickup Locations.

Are you looking for metal near you? 1-2 day ground shipping to 99% of U.S

Metal & Plastic Materials

Shop Online. No Minimums. Cut-To-Size Without the Wait.

FREE Mill Test Reports

Save on your Mill Test Reports and Certs of Conformance. They're always FREE at OnlineMetals.com.
Online Metals is your online metal supply source. We make finding, buying, and receiving the plastics and metals you need for your projects – big or small – easy and affordable. Save money and time – order today!