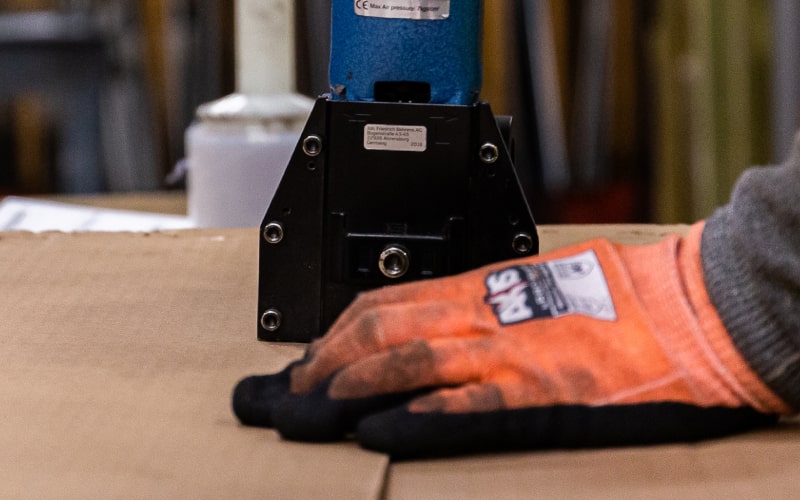 Order Handling & Shipping Process
Your Shipping Options Explained

Cut out shipping costs
Email sent when ready
Orders processed quickly
Six warehouse pick up locations

Order by 3pm, get your order shipped same day
1-2 day delivery options across the U.S. 
2-day, 3-day and next day air options available
Max length & weight limits

Save on shipping costs
Lengths >96", Widths >48"
Loads over 120 lbs
Delivery restricted to business locations
Save on Shipping with Warehouse Pick Up
Cut shipping costs right out of your material buys with Online Order Pickup. Online Order Pickup service is available if you're located within the vicinity of any of our six warehouse locations. We'll send you an email to let you know when your order is ready for pickup, with most orders processed within a few hours.

*Please note, we are unable to make any additional cuts to material once the order has been processed.
UPS: Choose Your Shipping Options
Orders completed by 3PM ships same day! This is our main method of shipping. Most of the continental US delivers within a 1-2 business days via UPS Ground. You have the flexibility to choose between Next Business Day Air, 2-Day, or 3-Day shipping options for most warehouse fulfilled orders, enabling you to align your selection with both your requirements and budget.
The maximum UPS shipping sizes are:
Max weight - 120 lbs (54 kg)
Max length on long pieces - less than 96"
Max size of flat pieces - 36" x 48"
*For larger / heavier options check out our LTL freight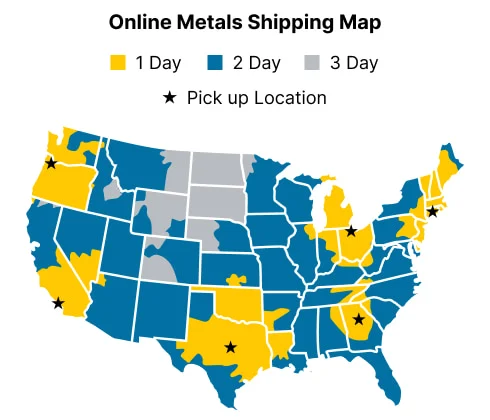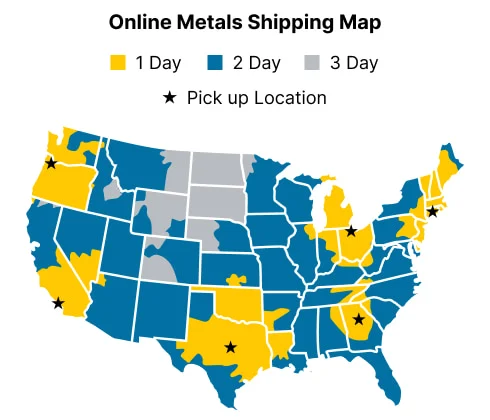 Use Your Own UPS Account & Save:
Choose the shipping method that you want to use (Ground, Next Day Air, etc)
On step 3 of checkout, in the special handling and notes box. In this box, write your UPS number and instructions that you would like to use it.
Finish checking out!
Things to Note When Using Your Own UPS Account:
You'll get a receipt with the shipping price before applying your account, but we won't bill you until the material ships. Once the warehouse receives your order and note, we'll update it and send you a corrected receipt.
Please be aware that savings are based on your own UPS contract and so shipping rates may not be less than OnlineMetals rates.
UPS assesses a surcharge on 96″ or longer packages, which may wind up making the shipping more expensive than OnlineMetals rates. We also have a surcharge for 96″+ lengths for a specialized lower rate.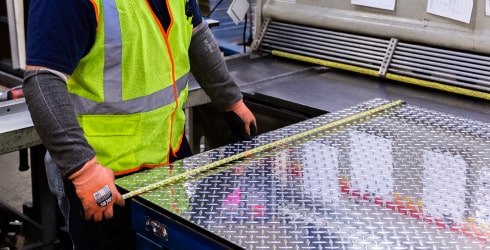 LTL Freight Shipping
Save money with our unbeatable freight rates! Some large orders qualify for freight, and if you can wait for your order, freight shipping is a great option to save on costs. If your material is longer or heavier than UPS limits, then we ship it to you by freight using R+L Carriers. Here are some things to note if shipping freight:
This type of order must be delivered to a business address
If your order is between 240-288", and your delivery location is a major urban area, please contact us to make sure that they can deliver to your location.
R+L does not show up every day unless we schedule a pickup. As such, the earlier in the day a freight order is placed, the more time we must ensure your order is shipped quickly.
Third Party Shipping Options (FedEx, DHL, etc.)
We don't have contracts with third party shippers such as FedEx or DHL. If you want to ship via these companies, we can, but you need to provide a valid account number that we can use. We do not advise using third party shippers as there are often delays with coordinating a timely pick-up.
Commonly Asked Shipping Questions
Depending on the size and length of your order, we may split the shipment into separate packages to make sure each item is properly secured and protected. 
We always try to ship from the warehouse closest to you, though sometimes depending on inventory we may have to ship part of the order from the next closest warehouse. We have recently implemented a new filter in our product list pages to show where the product is in stock for further visibility.
We will notify you along with an estimate of when your items will be back in stock.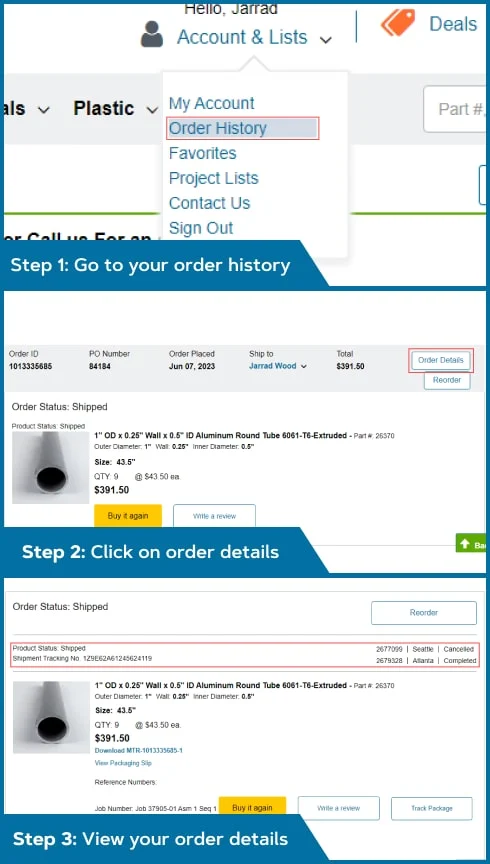 Tracking Your Order
Easily keep tabs on your order by accessing your online account. With just a few clicks, you can track the progress of your shipment right from the comfort of your own home. Simply visit your order history and click on the order details to find all the information you need. From the shipping location to the tracking status, everything is conveniently displayed. Rest assured that our system ensures proper linking, providing you with accurate and up-to-date tracking details.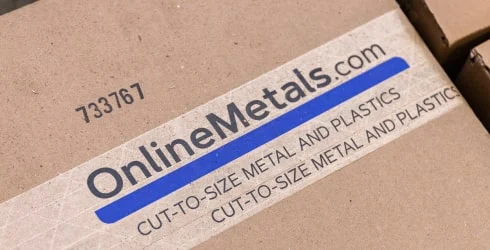 How Your Order is Handled
After your order is placed on OnlineMetals.com, we process it during our normal business hours (Mon - Fri, 8am-5pm). Every order is cut-to-size from mill-length sheets, bars, or tubes and hand-packaged just for you. Our warehouse team's 3-point inspection process ensures your order arrives correctly and damage-free when shipped from 6 warehouses across the country! In addition, most sheets are shipped to you with PVC coating to prevent scratches and abrasions to your products. We make sure our products are Packaged Right & Delivered Fast!

Each of our facilities is equipped with saws and shears to cut both long and sheet stock materials. In addition, our Wallingford, CT facility has a plate saw capable of cutting up to 3" thick aluminum, brass, and copper alloys.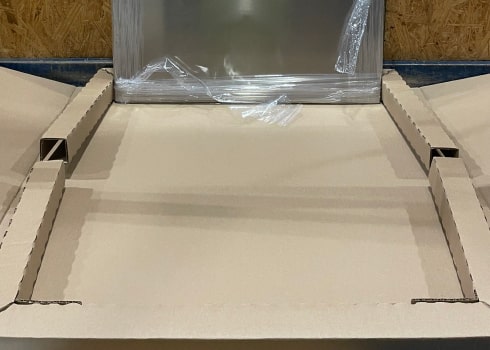 Innovative Packaging for Damage Free Delivery
To ensure your materials arrive in the best condition possible, we've collaborated with local manufacturers to design custom shipping packages that support the unique characteristics of fabrication materials. The lightweight air cell technology used in our flat product packaging reduces the risk of transit damage to your sheet or plate order. Pack it right, pack it tight!
Packaging Best Practices
Zero Waste Commitment
This planet is the only one we've got, and we believe it is important to take care of it. For this reason, our customized packaging helps increase efficiency and reduce waste. Additionally, we recycle all of the remnants from our cut pieces. Lastly, we work with suppliers who focus on environmentally friendly metals production and recycling.