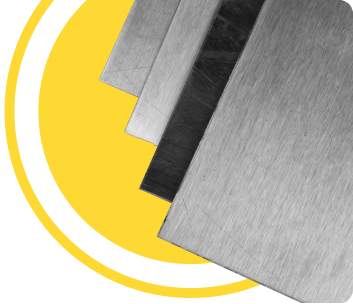 Looking for Polished Stainless?
304 & 316 stainless now feature shapes in a #4 brushed polished finish. This polished finish offers a sleek, durable, and low-maintenance option with a modern aesthetic. Its corrosion resistance, easy cleaning, and long-lasting performance offer great value for your next project.

SHOP
Shop by Material, Shape and Alloys
Stainless Steel Applications
Typically contains a minimum of 10.5% chromium, iron, and additional elements, Stainless Steel is renowned for its exceptional corrosion resistance, durability, and versatility. Typical uses are in structural components, kitchen appliances, surgical instruments, chemical equipment, architectural cladding, transportation systems, and renewable energy infrastructure, playing a pivotal role in sectors that prioritize reliability and hygiene.

We carry a wide variety of stainless steel alloys, including 304, 316, 440C, & 17-4.




FAQs
FAQs - Stainless Steel
Properties of stainless steel include corrosion and stain resistance, high tensile strength, good formability, and aesthetic appeal. Because it's one of the most hygienic metals, two popular uses for stainless steel are devices and surfaces for the medical industry and food and beverage manufacturing. Online Metals makes buying stainless steel easy with online pricing and ordering and convenient delivery.
Why Choose Us?

Polished Stainless for your next project
Machine Ready Precision Blanks
No cut fees or minimums

Our reliable team is here to help via chat, email, or phone
Can't find it? We'll source it!
Volume discounts available

Same-day order processing
7 order pickup locations across the US
Use your own UPS account

GALLERY

KNOWLEDGE HUB