1045
1045 Product Guide
Applications | Specifications | Mechanical and Chemical Data
Overview
A commonly used lower carbon steel with a wide range of applications due to the typical benefits of steel. 1045 steel exhibits medium tensile strength, good weldability and machinability, and high strength. Typically used in machinery parts, die forging, hot upsetting, gears, crankshafts, shafts, axles, bolts, studs, pinions, casters, and support plates.


Common Trade Names
UNS G10450, AISI 1045, C1045
Other Resources
Safety Data Sheet | Weight Calculator | Mill Test Reports
Products
1045 Sheet/Plate | 1045 Round Bar |
Mechanical Information

Density

Ultimate Tensile Strength

Yield Tensile Strength

Imperial
0.284 lb/in3
90,600 psi
76,900 psi
Metric
7.85 g/cc
625 MPa
530 MPa
Mechanical Information

Modulus of Elasticity

Shear Modulus

Imperial
29,900 ksi
11,600 ksi
Metric
206 GPa
80 GPa
Mechanical Information

Hardness Rockwell/Brinell

Elongation at break percentage

Poissons Ratio

Machinability Percentage

B88/179
12
0.29
55
Chemistry Information

Element

Percentage

Fe
98.7
Mn
0.8
C
0.45
S
0.05
P
0.04
The OnlineMetals.com difference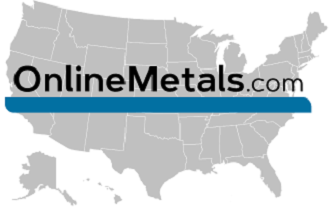 Nationwide Warehouse and Will Call Locations.

1-2 day ground shipping to 99% of U.S

Metal & Plastic Materials

Shop Online. No Minimums. Cut-To-Size Without the Wait.

FREE Mill Test Reports

Save on your Mill Test Reports and Certs of Conformance. They're always FREE at OnlineMetals.com.