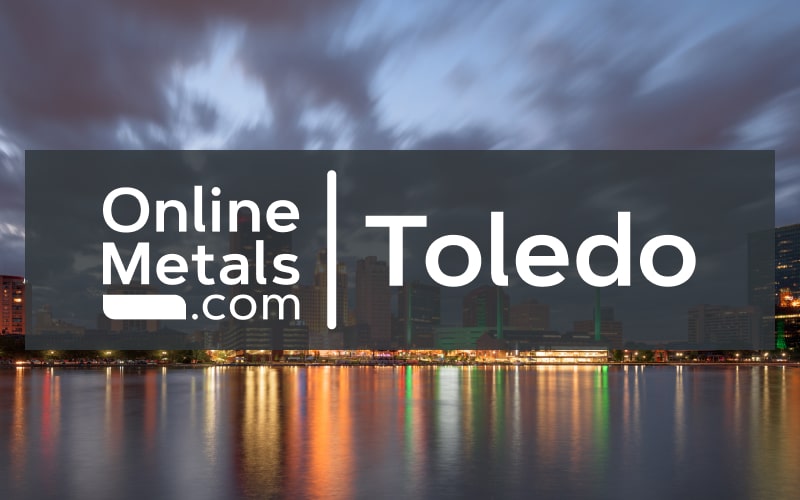 Toledo Metal Supply Order Pickup
Address: 8001 ThyssenKrupp Parkway Northwood, OH 43619
Hours: 8:00 am - 5:00 pm EST, Monday - Friday
Our Midwest-based metal warehouse in Toledo is located minutes away in the town of Northwood – take I-75 to Wales Road - head about a mile south of the bridge on Oregon and turn onto Caple Blvd. Take a left onto Thyssenkrupp Blvd and pull into the guest parking spaces. Walk up to the building and ring the bell – someone will be with you shortly.

If you need a reliable location in the Midwest for steel and aluminum or other metal or plastic materials, Online Metals offers a range of products and resources; whether you're in the market for aerospace-quality materials or metal for building your next project.

If you need accessibility support you can call us at 1-800-704-2157 and we will send someone out to help you.

Online Order Pickup is open Monday through Friday – and is closed on Memorial Day, 4th of July, Labor Day, Thanksgiving, Day after Thanksgiving, Christmas Eve, Christmas, New Year's Eve, and New Year's Day.
How do you order?
Our Toledo location offers in-house pick up for orders placed online - simply find the materials you need in the correct grade or sizing that you require, enter in your shipping information and our system can determine whether or not you're eligible for pickup. After entering in your location, choose "Will Call" , make your purchase, and we'll give you a heads up on when your materials will be ready! Swing by with your order number and we'll do the rest.
Our Toledo metal supply facility is located at:
Online Metals has six locations across the United States, providing 1 to 2 day shipping to most of the country - Visit our Locations page to learn more about our shipping and Will Call policies.