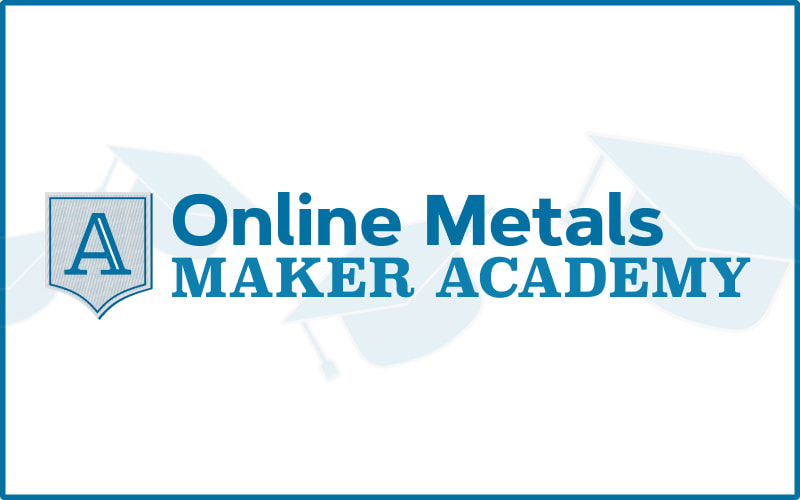 Start Metalworking Today with 15 Beginner Videos
We understand back-to-school looks a little different this year, so we want to do our best to help you fulfill your dreams and to continue inspiring makers around the world. Our team has compiled a masterclass YouTube playlist to help you expand your metalworking skill set and take on new challenges. Learn everything from the basic tools you need to get started, to soldering, forging, and engraving right here!

Feel free to watch the videos in the order we have, or jump ahead to specific skills you want to get right to work on:
---
1 – The First Five Tools for Metal Working & Fabrication with Justin Voss
Justin Voss tells us about the first 5 tools he would buy if he was just starting metalworking. His metal fabrication tools list is timestamped below.
(Amazon Affiliate Links)
---
2 – Metalworking Basics with Popular Woodworking
Whether you are an expert at woodworking and looking to spice things up or curious about getting started in metalwork, this I Can Do That! episode provides a collection of helpful techniques for working with metal. Learn about cutting, drilling, tapping, grinding, and finishing metal for your next project!
1:12 – Understanding the Different Shapes and Types of Common Metals
2:00 – Cutting with Different Tools
6:07 – Drilling, Tapping, and Cutting Bolts
14:10 – Understanding the Different Files in Metalworking
16:05 – How to Use an Angle Grinder
20:03 – Workholding and Clamping Material Down
22:43 – Metal Preparation, Cleaning, and Safety
---
3 – The Basics of Sheet Metal Fabrication with Powernation
Planning on doing a decent amount of sheet metal fab? POWERNATION recommends two must-have machines for your shop and how to use them. There are a lot of different options when it comes to these machines, from price to size, but you will want to have a sheet metal brake and a stomp shear. Some other basic tools for sheet metal are tin snips, stomp shear, and a plasma cutter. Listen in to learn more about their upsides and downsides.
1:00 – Intro to the Stomp Shear
1:30 – Using Tin Snips to Cut Corners
1:45 – Finishing with Your Sheet Metal Brake / Metal Bending
---
4 – Beginners Guide to Manual & CNC Machining with NYC CNC
Originally created for the Concord Kids – a group of 5th grade students studying STEM, this video serves as a basic beginners guide to a manual milling machine and a computer-controlled CNC Milling machine.
1:40 – Similarities and Differences Between A Drill Press and a Manual Drilling Machine
2:32 – The Keys to Accuracy with a Drilling Machine
3:22 – Test Cuts with a Manual Milling Machine
4:52 – Heavier Cut to Measure Accuracy of the Manual Milling Machine
8:55 – Intro to the Computer Controlled CNC Machine
10:30 – Test Cut with Controlled CNC Machine
12:22 – Measuring the Accuracy of the Computer Controlled CNC Machine
---
5 – LEARNING TO ENGRAVE WITH ALEC STEELE
Alec Steele walks us through his difficulties while learning how to hand engrave as he looks to add a nice embellishment to his Viking Sword. In this video, you will learn to engrave using basic engraving techniques and working with fine materials like silver and gold.
1:23 – Discuss Engraving Tools and Hand Engravers
1:49 – Grinding and Heat Treating A Few More Engravers Out of Silver Steel
3:15 – Initial Hammer and Chisel Test Engraving
4:20 – Understanding Proper Posture, Positioning, and Setup
5:13 – Using Printouts to Practice
6:14 – Cutting from Thin too Thick with Your Hammer and Chisel
7:43 – Practicing Consistent Arc and Radii Creation
10:10 – First and Final Attempt Comparison and Final Thoughts
---
6 – Get Started Mig Welding for Under $500 With Justin Voss
Interested in getting started in welding for under $500? Justin Voss walks us through setting up a MIG welder from the unboxing to ensuring it is dialed in for your first weld.
1:17 – Unboxing: What Comes in the Box?
3:00 – Understanding the Dials and Settings on Your Welder
3:53 – Where to Place and Position Your Welder
4:12 – Plugging in Your Torch and Ground Cable Properly Depending on Weld Style
5:15 – Safely Secure Gas Bottle to Welder with Regulator
6:48 – Putting Wire Spool Into the Welder
8:34 – Clean and Preparing Your Metal for Welding
9:35 – Fine-Tuning the First Weld with Your Machine
12:38 – Pre-flowing and Post-flowing the Weld
14:23 – Testing the Welder on Thicker Steel
16:17 – Final Thoughts on the MIG Welder
---
7 – One Way to Get Your Start Blacksmithing with Alec Steele
Alec Steele hand sands a blade and talks about what he would suggest to those young, inspired, and excited people out there that want to become blacksmiths.
0:55 – Recommendation #1: Take a Blacksmithing Class and Seek Out A Mentor
2:43 – Recommendation #2: Be an Honest and Diligent Student (Even If It is Not for You)
4:19 – Recommendation #3: Understanding What the Sensible Questions to Ask Are
5:52 – Recommendation #4: Ideal Outcome Allows You to Get Extra Time in the Shop
6:57 – YOU NEED TO BE COMMITTED AND DETERMINED TO LEARN THIS CRAFT
For local Seattleites, you can learn blacksmithing through a course at the Pratt Fine Arts Center, alongside a variety of other metalworking classes.
---
8 – Forging A Knife with Brad Richardson
Brad Richardson takes us through every necessary step in forging a knife out of 10-95 High Carbon Steel. Well, this is not necessarily knife-making for beginners, it provides great insight into the efforts that go into it.
0:33 – Warming Up the Forge
0:42 – Make the Tip of the Blade, Drop in The Handle, and Flatten to Remove Warps/Pitting
1:18 – Heat and Quench Blade Slowly Softening the Blade
1:34 – Trace the Final Profile and Grind Knife
2:12 – Use Belt & Spindle Sander to Smooth Out Edges and Finish Profile
2:42 – Use Filling Jig or Belt Sander to Make Perfect Bevel's by Hand
3:26 – Ready to Drill Holes in Handle for Pins
3:52 – Back to the Forge to Reheat Your Knife, Normalize Heat, and Quench to Harden Steel
5:15 – Now it is Ready for Tempering
5:46 – Overview of Handle Materials and Start Cutting Pieces to Size
7:03 – Gluing Spacers to Maple Scales Using Equal Halves of a 2-step Resin Hardener
8:34 – Sanding Bottoms of Handles to Remove the Epoxy Squeeze-out
9:00 – Drill Holes for Pins in Handle (Same as with the Blade)
9:38 – Temporarily Pushing Pins into Handle and Blade to Hold Parts Still and Align Holes
10:53 – Trace Outline of Blade on Handle and Remove Excess Material with Bandsaw and Disk Sander
12:15 – Taper Fronts of Handle Scales
13:02 – Surface Grind Blade to Lay Flush with Handle and Epoxy to Handle
---
9 – The Basics of Soldering Jewelry with Jewel School
In this episode of Jewelry 101, Susan shows you the basic skills and techniques you need to know on soldering when making your own jewelry at home. If you want to learn soldering tips and tricks, this is the spot!
0:28 – What Tools You Need to Start Soldering
1:14 – A Quick Tip on Solder (Get Solder That Includes Flux)
2:03 – Start Out Making Simple Rings Using Sterling Silver Wire
2:42 – Number #1 Obstacle (Solder Does not Fill a Gap)
4:02 – Your Torch Explained
5:25 – Remember to Cool Your Solder Pic
6:50 – Revisiting the Steps for a Closer View
8:02 – Quench & Cleaning Bowl Explained
8:46 – Final Viewing of Our Soldered Rings
9:02 – Revisit the Essential Tools Needed
You can also learn to solder at Pratt Fine Arts Center if you are looking for a class.
---
10 – How to Clean and Polish Metal to Mirror Finish with Bikeit Uk
In this short video, BikeIt UK takes you through four simple steps that they use to clean and polish the metal components in restoration projects.
0:34 – STEP 1 Cleaning and Washing the Metal Parts
0:55 – STEP 2 Sanding the Scratches from the Metal
1:26 – STEP 3 Polishing the Metal
1:54 – STEP 4 Polishing and Buffing with Safety
---
11 – Metal Shop Safety (Extremely 90's Video)
An extremely 90's safety video summarizing the types of accidents that can occur in a metal shop and how to avoid them.
1:14 – Ensuring Safe Work Areas
3:02 – There Are 5 Major Types of Accidents to Avoid
8:14 – General Safety Tips When Working with Materials
9:44 – Foundry and Forge Safety Tips
12:00 – Tool and Machine Safety Tips
---
12 – Beginners Guide To 3d Printing with Teaching Tech
This guide takes you step by step everything you need to get going and start printing with your 3D printer.
0:56 – Unboxing
1:21 – Assembly
3:22 – Tour of 3D Printer Components
8:22 – LCD Functions
10:54 – Software – Where to Get 3D Files to Print
12:15 – Software – Installing and Setting Up the Free Slicer Cura
15:09 – How to Level the Bed
20:53 – Calibration Cube
21:31 – Brief Explanation of G-code
22:44 – Where to Next?
---
13 – How Metal 3d Printing Works with Praxair, Inc.
Leading producer of metal powders for additive manufacturing, Praxair Surface Technologies, shows you how 3D metal printing works. Layer by layer. From design to modeling to printing in plastic and metal to validating the final printed product.
0:07 – Starting with 3D Design
0:35 – Print in Plastic First
0:45 – Describing the Additive Manufacturing Process
1:11 – Key Advantage: Less Waste and Reusable
1:29 – Once Printed, Scan and Validate Dimensions
1:50 – Key Advantages of 3D Printing Materials
---
14 – Bonus – Diy Garage Metalworking Shop Makeover and Organization with Crafted Workshop
Watch as Johnny Brooke gives his metalworking side of the shop a makeover and see how he reorganizes and optimizes hies more advanced tool layout and workflow.
---
15 – Bonus – How to Weld Octopus Metal Art with Barbie the Welder
Barbie the Welder shows us how to weld silverware animals, and more specifically an octopus. She walks you through her tools, safety measures, and her build.
---
Materials to Get You Started
We know it can be daunting starting a new hobby or practice, but every single one of the experts in these videos has been in your position at one point in their metalworking journey. Here is a shortlist of tools and materials we offer to get you started!
Protoboxes:
Simply put, they are a mystery grab box containing a bunch of assorted sizes and shapes of the material you pick. They offer great materials for beginner metalworking projects and practice welding. We currently offer them in aluminum, brass, copper, cold roll steel, and stainless steel!
Low Carbon Mild Steel:
Low carbon mild steel, steel containing between 0.04 – 0.3% carbon, is a great metal to start welding with. Its historic abundance, low cost, and ductility have allowed welding technologies to be practiced and tested on it for years. Try out your MIG welder with our 1018 steel products. If you are looking for sheet material, try out 1008/A366 steel.
Tool Steel:
If you followed closely, you may have noticed that the knife forging walkthrough mentioned tool steel. Tool steels are an extremely common choice for making knife-making due to their distinctive hardness, resistance to abrasion, and ability to hold a cutting edge in extreme temperatures. Check out our tool steel offerings here and see which material best suits your project.
---