Making with Tyler Bell Makes
Here at Online Metals, we just sell raw materials. It's our customers, people like you, that make something interesting from them. In this article we sit down for a Q&A with Tyler Bell, who runs the YouTube channel Tyler Bell Makes. At present, Tyler has about 91.5K subscribers, though with the quality content he puts out, he'll keep growing at a good pace!
---
Who is Tyler Bell?
I am a 22-year-old from Seattle, WA who assembles airplanes for Boeing by day and makes things by night / in my free time. I have a YouTube Channel (Tyler Bell) where I make anything from tools to furniture to random inventions.

A question I often find myself asking about my projects is "why not?" I've recently been trying to make more crazy, impractical, challenging and possibly dangerous projects. Because, why not?
---
How did you get into making and sharing your story on YouTube?
I've wanted to work with my hands for as long as I can remember. In grade school, I would be bored on a summer day and ask my dad to take me to the hardware store just to look around. I was longing for a project to work on, and I was hoping to see something that would spark an idea. I didn't even know what was possible.

Fast forward several years and around 2017 I found the Maker Community online. After consuming dozens of hours of maker videos I decided to take a shot at it. In August of 2018 I launched my own YouTube Channel hoping to inspire people to make things and show them that they're more capable than they think they are.
---
Tell us about your personal shop and how much it has changed since you started?
My shop is a 10'x20′ bay in my parents' garage.

I originally started collecting tools at the end of high school to work on my 1964 GMC pickup. Once my passion and creativity led me to the Maker Community, I started to orient my toolset and shop space toward new projects.

I previously bought new tools as needed for projects, and I am now replacing tools with upgrades.
---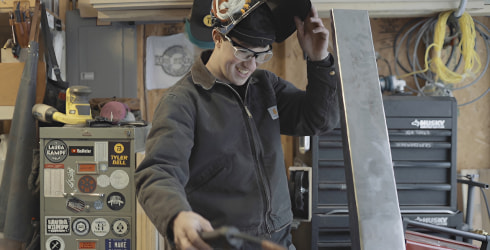 How many different skill sets have you learned in the process?
I'm a generalist so my shop is set up for metalwork, leatherwork, woodwork, sewing, and all-around problem solving. I have also learned manual machining, 3D printing, and blacksmithing.

I have a lifelong goal to get my craft to the point where you could hand me any material and I could solve problems with it. Soon, I look forward to growing my skills in forging, sewing and TIG welding. Problem-solving, prototyping and design are also skills that I have developed.
---
What materials do you prefer to work with? What products in our catalog would you like to test out?
I feel most comfortable working with metal. Recently, I have used plastics in projects, and it was fantastic. Also, I look forward to machining Delrin (acetal). I hear it is wonderful to work with and great for prototyping.
---
How do you come up with project ideas and choose which ones to make videos on?
Usually, I make something to solve a problem I have, such as needing a piece of furniture or a tool. For other projects it could be that I want an excuse to learn a new technique or use a new tool.

For my Over-Engineered Bottle Opener, I wanted a project to learn pneumatic systems, so I came up with the idea of using a pneumatic cylinder to pop bottle caps. For my Mechanical Steel Coat Rack, I needed a coat rack. But I wanted it to be different than any I had seen. I thought about what element is critical to a coat rack functioning. Then I flipped that element upside-down and re-engineered it to work; the long way around.

I keep a long list of future project ideas but I only work on the ones I am most passionate about now. Sure, I could easily chase video trends or do projects like past videos that have performed well. But I think it is more valuable and genuine to my audience to build what I am most excited about.
---
Which project is your favorite accomplishment?
My favorite so far is my Pneumatic Over-Engineered Bottle Opener. It was a very fun challenge and my first time working with pneumatics. The whole thing was made in aluminum, which was a blast. The device works fantastically and makes and incredible noise when popping caps.
---
Which project turned out to be a complete failure?
I haven't really had projects that were total failures. While I have made mistakes during projects but luckily, I usually persevere past them. Really, I only consider mistakes failures if I don't learn from them.
---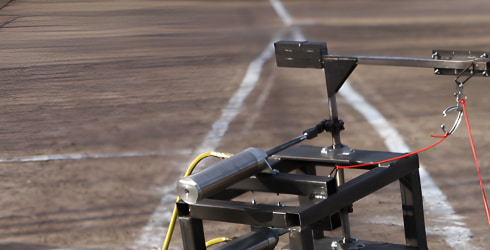 What's next for Tyler Bell Makes?
I am just wrapping up what I'm calling the "Home-run Machine." It is a device that swings a baseball bat and hits balls off a tee. The goal is to hit repeatable homeruns.

UPDATE: he has since finished the video and can be viewed here: Hitting a HOMERUN EVERY TIME
---
---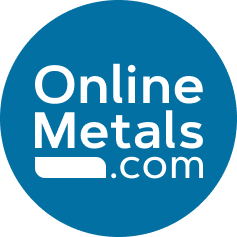 Online Metals is the world's leading eCommerce metal supplier, specializing in small quantity cut-to-size metals and plastics, delivered in a fast and reliable manner.

Since 1998, Online Metals has expanded our catalog to over 85,000 different cut sizes, grown our national footprint to six pickup locations across the U.S., and continued to improve upon our best-in-class customer experience.

Check out our materials: Alloy Steel, Aluminum, Anodized Aluminum, Beryllium Copper, Brass, Bronze, Carbon Steel, Copper, Cast Iron, Nickel, Nickel Silver, Plastic, Stainless Steel, Titanium, Tool Steel, Unistrut®, Wrought Iron, & Zinc

Shop by shape: Bars, Tubes, Sheets, Plates, and More.

Can't find what you're looking for? Submit a quote or contact our support team.