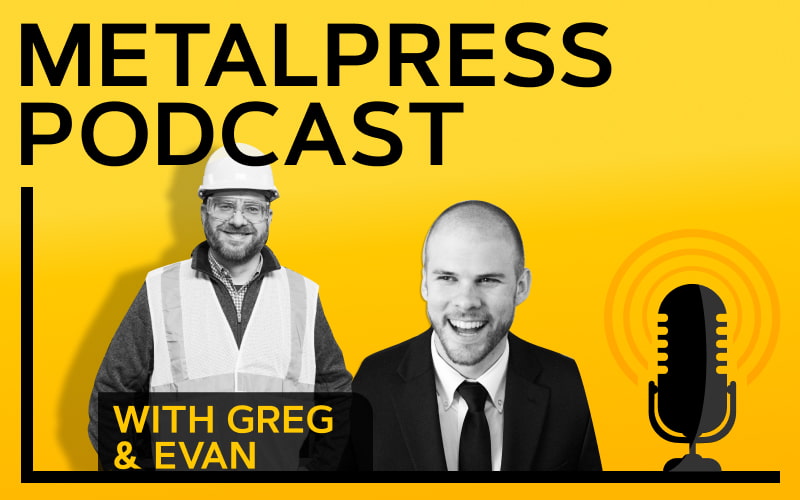 Episode 5 | How Metals Can Influence and Inspire

Quick Episode Summary
In Episode 5 of the Metalpress Podcast, Greg introduces Online Metals social media guru Evan VanBuhler to discuss the impact of influencers in the metal industry.

How do influencers fair in a B2B world and what is the landscape like especially in the metals arena? How do people become influencers, how are relationships started, and what is the goal behind becoming a metals influencer?

Listen in on Greg and Evan as they talk about the impact of social influencers, the collaborative nature of the maker space, and what Online Metals has done to build genuine relationships!
Please Support Our Partners
Huge thanks to our amazing partners for helping us make this happen.

Please support them; we couldn't do it without their help!

Full Episode Details
The rise of metal industry influencers and the collaborative nature of the maker community
0:30 - Introduction to Evan VanBuhler, our Social Media Guru
1:35 - How do influencers in the metals space compare to the entertainment space?
2:09 - Who are some of the influencers we work with, and what are their goals?
3:36 - Who is driving the space, businesses or makers?
5:34 - Are copycats are a large problem in a maker space? How can makers fight back?
7:33 - What is the sentiment in the maker community? Are they collaborative?
9:12 - What would makers suggest to people new to the trades or seeking a future as a maker?
10:56 - How do these business/influencer relationships start? Where do you look?
Quotes From This Episode
"I think the cool thing about our product is, these makers are taking our materials that is just an inanimate block of raw material, and turning it into something functional or really has endless possibilities."
- Evan VanBuhler
"I think a good idea for them, as you mentioned to focus on their brand, because at the end of the day, you can take those assets, you can take that information, but if you're not wrapping it around something large or your personality or your brand, it's not really going to take off, and it'll probably make it a lot easier for you to win those battles."
- Greg Raece
"[The maker space] is a truly amazing place where a lot of different individuals, seemingly in smaller groups, different niches like welding, or machining, sculpture art, but these people from vastly different walks of life connect from across the world and really engage and help inspire each other to push their skillsets further."
- Evan VanBuhler
"[We are] supporting these artists, sculptors, welders with materials, trying to really be involved in their whole process and help them create full-time. And I hope in the future, we can even continue to build this even more because metals are just metal until you actually build something with them. So, they are a huge part of our reason for existing."
- Evan VanBuhler
"It's relatively new for us, and it's really starting with our business, and how we are already helping others with our fast shipping, just massive portfolio of products and that customer service that really takes it to the next level. "
- Evan VanBuhler
In This Episode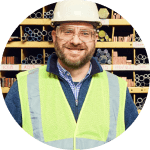 Greg Raece
President, Online Metals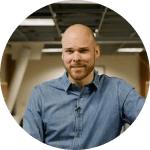 Evan VanBuhler
Social Media Manager, Online Metals
Greg Raece (00:04): Well, hello and welcome to this episode of the Metalpress podcast. I'm Greg Raece.

Michelle Edwards-Lanham (00:11): And I'm Michelle Edwards-Lanham.

Greg Raece (00:15): And joining us today is Ilse Henne, the chief transformation officer of materials services at ThyssenKrupp. We're excited to invite her as our guest to talk about materials as a service, and how the pandemic has created urgency around digital transformation.

Michelle Edwards-Lanham (00:28): Yeah, and we're also going to do a deeper dive into the importance of flexibility in this time, and optimization and modularity. And then finally, we'll discuss the role of Online Metals, and where we see our industry headed in the future.

Greg Raece (00:48): Welcome, Ilse. And as a global expert in transformation, what are some of the biggest changes you saw in the metals industry in this past year?

Ilse Henne (00:55): Yeah. Hello, Greg. Hello, Michelle. Thank you for having me on your podcast. I'm really looking forward to exchanging with you guys on all these interesting issues. I think if we look at the biggest changes that we have seen in this last year and during the pandemic, actually, it's a lot about the acceleration of changes that had already announced themselves before the pandemic. If we look at how predictability is decreasing, how life cycles from products that our people, our customers produce, or our customers buys are also shortening, we see that it's complexity overall it's increasing. And in order to be able to cope with this increasing complexity, digital solutions can help. Only our industry is a very old industry, and before the pandemic, even though some of the digital solutions were there, it was hard for us to adopt them, to insert them into our daily operating as well as for our customers.

Ilse Henne (02:01): And what the pandemic has done is that it has really given it a push. If I think about video calling, for example, it's something which existed for 10 years, but we were never doing it. We would always rather travel to US to visit you guys rather than to come together and make these video calls. And now, since the pandemic, video dialing has become our standard now. And I think it's the case for many elements, solutions were there, the changes were already initiated, the pandemic gave it a boost. That's my positive interpretation. That's what we need to take along from the pandemic, not to say, of course that the pandemic has also created a lot of damage now for which we need to recover when we finally get out of this crisis situation. But I think there's a lot of positives in it.

Michelle Edwards-Lanham (02:53): Yeah, I agree. There's definitely been a lot of positive change that's come about, and acceleration of trends that were already coming about in our industry. I'd like to talk a little bit more about the supply chain, and Ilse, I would love to hear what you think about how it relates to our transformation, to materials as a service in relation to supply chain?

Ilse Henne (03:19): Yeah. So what we see is that supply chains as such are changing very rapidly, as again, accelerated by the corona pandemic. This classical vision that a lot of people had when talking about their supply chain or organizing their supply chain, which was rooted in an idea of cost efficiency is what is disappearing. And what was this old idea, it was one piece has a certain price, 10 is cheaper, 100 is more even cheaper, 1,000, 10,000, 100,000, always cheaper. Large scaling, everything being produced at one preferably cheap place somewhere on mother earth. And that was where we were going, but now in the pandemic, we have seen that that creates big risks. Everybody knows the story about mills in China with material that we needed to make masks that we need. We couldn't produce them anymore because the raw material was stuck somewhere in China.

Ilse Henne (04:31): And that's when companies started to learn that what's much more important is modularity. It's the possibility to produce their products, the same products at several places in the world so that when one place cannot deliver anymore, they can easily switch to another place. And for complicated products in the past, that was completely impossible, nowadays, with the concept of digital twins, it's much easier to redistribute production again all over the world. So, there's no longer this need of concentrating and scaling everything at one place. And having this kind of very strict and very linear supply chains, we can make now the supply chains much more modular, because we have digital solutions that support this way of producing and keeping this way of producing, then also sufficiently competitive, yeah. We started moving to large-scaled production in order to increase our competitiveness. Now, competitiveness will derive from a much more modular approach. And there is this kind of paradox in it because you might think, "Oh, if I start producing smaller lots all over the world, it's going to be much more expensive." It isn't when we make good use of digital solutions, yeah.

Ilse Henne (06:02): And I think that's an issue which I'm really enthusiastic about it, how we are going to pull this off, how we are going to make use of new technologies that expands exponentially. And we all know what exponentially means since corona pandemic. So, all these new technologies coming up supporting supply chains to be at the same time cost-effective and flexible and modular. And the question is going to be, how are we going to introduce these technologies so that they effectively lead to higher productivity within our supply chain? That will require a lot of change and a lot of transformation in our organizations. Now, we will no longer be able to manage our people and to manage our businesses like we did in the past, because it's contrary to this new technology that is being introduced. So, that's going to be our real leadership challenge, I think for the future, how can we use these new technologies, make the best use of new technologies? How do we need to change our organization so that people can co-live with technology, and become better at what they are doing?

Greg Raece (07:21): And changing with technology, you had mentioned changes in leadership and just kind of changes in how we work, and it's really interesting. What are some barriers that you think may be in place right now?

Ilse Henne (07:34): Yeah. I think that a very important change that we need to make is that, in order to be able to deal with increasing complexity, it is important that the people that are in the heart of the complexity, and that are responsible to create the solutions are also the ones that can take a decision at the given moment. And I always like to share this very European example of the Arc de Triomphe, which is this huge roundabout in the middle of Paris, where you have like about 12 streets that come together. And when you actually see that driving to the roundabout of the Arc de Triomphe is not steered by traffic lights, yeah. Normally, if I have two streets coming together, I can use a traffic light. The two streets is not complex, yeah. I can say, "Okay, one street has more traffic than the other, so I can adjust my traffic light."

Ilse Henne (08:33): If I have four streets coming together, I have a little bit more complexity. I can still use traffic lights, but the chances that I will get some people waiting longer for the red light or having a queue for a red light, because something in the system changes, because there's a heavy truck driving really slowly or whatever and then some unexpected elements, then I already get a lack of performance in my system. If I have 12 streets coming together, I cannot manage that with rules. I can only manage it with the intelligence of each individual, deciding at the given moment how fast I am going to enter the roundabout and that depends on the environment, and only the person within the car driving onto the roundabout can take that decision. And that is exactly what we will have also in our businesses when we need to deal with increased complexity, and the more technology. And you guys at Online Metals know that because you work different kinds of technology, you work different kinds of software applications, you work different kinds of customers you want to serve.

Ilse Henne (09:46): So, all of this increases complexity, and you cannot make rules for that anymore. You want your people to take the right decision when they need to go onto the roundabout and they have autonomy. You want them to have autonomy to take that decision. Of course, you need a framework. Also, for the roundabout, there is a certain speed limit, which you cannot exceed, yeah. And you can also not go and drive around drunk, because then you would also disturb the system. So, there is a framework which we, as leaders also should create and have agreement with all the people driving on the street, and you cannot deviate from that. You must stick to the rules, but you must have this freedom for each person in a certain moment to take the decision. And that's much easier said than done, because we come from a completely other culture, where many, many long years we have believed that if we set the rules right, and if we tell people exactly how they should react in which situation, we will increase performance, yeah.

Ilse Henne (10:59): And this is no longer the case. So, I think that this is the biggest challenge that we have in front of us to completely change the way we are organized, and how we interact with our employees and how we distribute tasks. And that is necessary, because if we don't pull that off, we always have this risk that we fall into this trap of wanting to reduce complexity, and you see that a lot. A lot of people think, "With more rules, I can reduce complexity," but that's an illusion, because complexity is increasing. And the worst thing what can happen in very complex situations, if you put more rules, you actually increase complexity by the rules, because the rules are not helping anymore. So, what you need to do is first of all, embrace complexity, be very happy that complexity is there, because each degree of complexity that you are being confronted with is actually an opportunity to create value for a customer, yeah.

Ilse Henne (12:05): So, we shouldn't be afraid of the complexity. We should embrace complexity, and think about how we can manage complexity instead of… I personally hate it when people say, "Oh, we definitely need to reduce complexity," because it's an illusion. And you see that at very different levels. Yeah, you see it in business, but you see it also in society, where people think that you can make society easier to manage when you put in more rules. And the same goes actually for supply chains. Also, and that's why flexible and modular supply chains are the only ones that can survive. You will have another way of steering supply chains. You will have people, more people taking decisions alone, independently, and very new for all of us, you will have systems taking decisions. You will have a predicting software telling you when you need to order new material. You will have a forecasting software saying you how much you need to order in the future.

Ilse Henne (13:15): So, systems and people are coexisting, taking decisions at very different levels in the supply chain. And this is very different from what we had in the past where we said, "Okay, we have a product," and we produce this product one, 10, 100,000, 200,000. Mostly in these cases also creating a lot of waste, because mostly that always led to overcapacity, and overcapacity is also something which is costful, not only monetary wise, but also for our planet. So, that's the nice thing also about flexible and modular supply chain is that they help us also to be more sustainable. Yeah. Sustainable as a company, but also sustainable as a society. But that's a lot of different angles.

Greg Raece (14:08): Well, I like what you mentioned too, about complexity, I'm hearing agility and empowering leadership within the team. When you mentioned the Arc de Triomphe roundabout as an example, I've seen that a couple of times and I'm like, "Oh my gosh, that's scary. I don't want to go in there." Right? Because it looks like chaos, but it's actually not.

Ilse Henne (14:27): Yeah.

Greg Raece (14:27): And I think that fear of being able to look at something and maybe turn away from it, that's not the approach. People need to look at the change and trust that they have the skills to do that.

Ilse Henne (14:37): Yeah, of course, it's scary. It's scary because we have never been trained to take a lot of decisions. The whole educational system in the Western world is directed towards not taking your own decisions. It's about learning what others have decided for you and repeat. And that's the biggest challenge that we have when we want a good co-habiting between technology and people is that we need the people to learn not to be afraid to make a decision. And that's where leadership comes into place, because then you also have to allow that people make mistakes because only by making mistakes, you can learn. And that's where leadership comes into play. You can't expect that people always make the right decision. Of course, also going onto the Arc de Triomphe, you can make a decision where somebody else has to put the foot on the brake.

Ilse Henne (15:41): Okay. maybe, he will even drive into you. The good thing about a roundabout is that it is built in a way that you almost never have little accidents because everybody has to slow down. There's also this image of when everybody is in charge of his own destiny, you can create a harmony which is much more effective than the harmony that you think you can create by having everybody doing the same thing, because truth is people find it very difficult to adhere to rules. So, the harmony comes from the understanding why you are on this roundabout, and at what your role in the whole is to drive, to go to your target, not to wait too long, because then you are losing your chance to move, you are then confusing the system.

Ilse Henne (16:38): And that's something which we have naturally in us, but it can be scary. And that's where leadership comes into play, and that's where we have to explain to people, give them faith and tell them, "Yeah, go ahead." Yeah. It's like learning to drive a car, it's also very scary in the beginning.

Greg Raece (16:57): Right.

Ilse Henne (16:58): At least for me, it was, it took me ages to get my driver's license. My parents were very desperate until I got my driver's license. I didn't see the use of it, because I was living in a town, and I would do everything with public transport, which finally I got to it too.

Greg Raece (17:16): Oh, that's fun. I have the opposite experience. I used to live in the state of New Mexico, and I got my driver's license at 15. And I tell my wife about that, and she's terrified that I would have been driving on the freeway at 15. I think the incentives there were different. I had to go long distances to get places.

Ilse Henne (17:37): Yeah. I was more like a bike kind of girl.

Greg Raece (17:43): And then I didn't have a car for years once I went to college. It's really interesting to hear that and also I know Online Metals, we are part of the ThyssenKrupp family. And in many ways we've been privileged as a smaller startup to have had the ability to be flexible and to be agile. And many of the challenges you would associate to change, we actually don't have. I think it's almost an opposite for us is then we have to learn at the complexity, and not being afraid to go take on a complex task, because we've been more iterative, and we build up piece by piece and we test and we explore.

Greg Raece (18:22): But now, we're at a point too, where we've developed a supply chain of sorts. We've developed maybe by accident, maybe just by the nature of e-commerce that we're able to take orders as people need them on demand, almost to the point of what they think about it, we can get them the material. And we're looking at, okay, now how do we expand out that supply chain, so that we're able to, as you had mentioned, thinking about things from a point of view of AI or predictive analytics, or looking at something from the point of view of there are trends out there. So in many ways we claim to be agile and leaders, but we also need to remember that we can't hold off from that complexity that you're mentioning.

Ilse Henne (19:07): Yeah, that's right. That's the beauty about digitizing your supply chain that you can at the end build a supply chain, which is actually oriented towards customer needs. Until recently, supply chains were built according to production needs, yeah? Whatever was being produced was actually determining how your supply chain was set up. And now what you see if you increase supply chain transparency through digital, if you know more what's going on, if you can be more predictive, if you have a better view on your OEE, you can start modeling more your supply chain. You can start using smart logistics like track and trace apps and all kinds of automated warehouses. Not all of this comes with these new technologies, and it allows you to really start building modular supply chains that exactly answer customer needs. And you can start making like you guys do that really well personas, and you can try and decide for this kind of customers I want to have this service, for this kind of customers, I want to have that service.

Ilse Henne (20:19): If you think about it, especially in an industrial environment, five, six, seven years ago, nobody was talking about that. Yeah. Everybody was still very much believing in… At a consumer side, the stories were starting to grow of course, 10 years ago, already 10, 15 years ago. But still, also there has been quite an evolution over the last couple of years, but in an industrial environment, nobody was thinking about producing laundry machines accordingly to the needs of customers. Yeah. They would produce laundry machines in lots and batches to have the best machine to the best price. And then they would start looking which customers they could sell it to. Now, this has shifted completely. Now, we are looking which customers are out there, what do this customer want? And how can we use digital technology to be able to respond to that in a very differentiated way?

Ilse Henne (21:21): And that's what I said before with why we need to embrace that complexity. The moment you would start saying, "No, no, I only want to have this kind of service, and this kind of supply chain, because it's easier, and because it's cheap and I can increase productivity." Then you are lost, because somebody else is going to find an answer to some of the customer needs of your current customers that they will feel better served. Convenience is what everybody's looking for, even convenience is now practically standard and new trends are coming. And so you have to embrace this complexity in order to be able to maximize the shift from a supply chain which is production-oriented towards our supply chain which is clearly customer-orientated.

Ilse Henne (22:17): And that's the nice thing about you guys in Online Metals is that you really are setting the tone for ThyssenKrupp and you are a living proof that… Or a successful proof that by being more agile, by being more flexible by working exactly what we said, having decisions taken by people who are responsible for the operational results, that you can move fast and that you can lift the shift. So, that's why we are very happy to have you guys on board.

Greg Raece (22:52): Well, we're happy to be here too. I know Michelle and I, we look at the business quite a bit. We look at what are the opportunities and where's the growth, and I think philosophically, what we're really looking at is how do we provide more value to the customer? Because we see, as you mentioned, convenience, that's one thing that we're really seeing a shift towards is not just the convenience of ordering and having the materials sent to me, but maybe the convenience of being more flexible, and being able to address customer in different stages of where they are in their process, whether it's planning or it's a last-minute need, and building those systems that help them out to the point where… We'd love to be at a spot for the customer where instantaneously, if they even have just a general question or an idea of the need that could kick something off with them, and starting to look at whether Online Metals, maybe we don't carry the service that the customer wants, but-

Ilse Henne (23:50): Yeah.

Greg Raece (23:50): … we enable or connect them to that service so that it makes their entire experience much better. And Michelle, I know you had some thoughts on that too.

Michelle Edwards-Lanham (23:58): Yeah. I think that what you're saying there is really right on, as far as the kind of next level for Online Metals, where the company itself was built digitally, it's digitally native. We were already very tightly integrated with technology from… We didn't have a business where there's people making business decisions, and then there's people making technology decisions, and then there's someone else making supply chain decisions. It was all very much a coordinated kind of effort, because every one of those units relies on the other unit in order to fulfill their own role. So, we've always been very tightly integrated, which I think has given us a kind of a head start as far as the industrial business and materials industry goes. And looking at how we can take this to the next level, I think a lot of it is going to be in a virtual space.

Michelle Edwards-Lanham (25:01): So, we have an infinite aisle of materials. We don't necessarily need X number of square feet of a warehouse, because we're going to be stacking things, as you were saying, Ilse, thousands of them to make it cheaper. It's more having a network of fulfillment and options and resources, and then connecting our customers to all of those resources that exist everywhere, where we've done the work of making that connection for them, and we can get it to them and we can tell them when it's coming and make sure it's the right thing. And some of the exciting things we've been looking at is using more AI in helping us to optimize even just how we're communicating to our customers, and understanding what they're responding to so that we can provide them with the best information, and anticipating the services that they're going to need. So, we can go out and pre-connect those businesses and services to our customers before they need it. And so, it's very exciting.

Ilse Henne (26:05): Yeah, absolutely. That is really the core of what is in materials as a service is this moving away from simply being a network or a supply chain participator towards a supply chain integrator. Where you are really the one who is integrating new kinds of supply chains, not because supply chains will constantly change, and I think that's really at the core of materials as a service. What I personally also find very exciting is that this whole e-commerce which stands actually for electronic commerce, I think that in the next years, and I'm really excited to see how you, again, as front runners will deal with that, that this E will no longer only stand for electronic commerce, but also for everywhere commerce. Now, this idea that people are going to start buying everywhere digitally like Walmart buying TikTok, because they know that people are not even going to leave TikTok anymore as a platform when they want to buy.

Ilse Henne (27:17): So, I think that's also very exciting now for OM to see where are customers going to pop up. We have a very strong shop. We have a very strong portal. We have very good systems to attract customers, but customers are going to start to buy everywhere. And then the E also will stand, I think, in the future for entertainment. Yeah. I feel like entertainment is going to be a real issue for customers to bond with, because convenience is getting to such a high standard already. Yeah.

Ilse Henne (27:53): In the beginning of digital shopping convenience, there was a huge convenience gain for customers when they could start buying online. For consumers more than for industrial consumers and even for business customers, you guys have showed how much convenience you can increase. But I think we have come to a point where it's become a standard to deliver a certain convenience. Some of them are having big trouble reaching that convenience, but there are multiple players that can already build very convenient solutions. So, now customers start to look at again at the experience of buying, how much entertainment is there in my buying experience. So, that's what I'm really excited about.

Greg Raece (28:42): They may be the third E, experience commerce too, where you have entertainment, everywhere experience.

Ilse Henne (28:48): Yeah. Yeah. I think that's going to be really important. Together with this everywhere commerce instead of e-commerce, that's something that… I was really flabbergasted when I heard that Walmart bought participation of TikTok, because people had been telling that a lot to me like, "It's going to be commerce everywhere." And I was like, "I don't know." But then that was for me the proof of concept, because they know that people eventually will not go to the website of Walmart. There will be product placement on TikToK or on Facebook, or whatever, the Instagram, and people will want to buy from there. They will not do the bother anymore to go to a separate website, a marketplace to buy something, which brings us again to rethink all that we been thinking about, do we want to join marketplaces, comparative market spaces, et cetera. And actually customers will be triggered in a completely different way in the future. So, the E also stands for exciting.

Greg Raece (29:54): Yeah, or emotional. I was thinking too, because if you want-

Ilse Henne (29:57): Emotional. Yeah, for sure.

Greg Raece (29:59): That's a very powerful message. I don't think I've heard it explained this way before, but you're right. It's taking it from maybe more of a segmented I need e-commerce with a platform and a shopping experience to I need to be everywhere. I need to be everywhere. I need to be there where the experience is metals is what I'm thinking about at that time.

Ilse Henne (30:21): Yeah, yeah. And we are really looking forward to see how you guys will be front runners there, again. So, we are excited-

Greg Raece (30:29): Again.

Ilse Henne (30:30): … to see what you… Yeah, because you have already pushed us a lot and have shown and learned a lot to this organization and how we can use it, also in interaction with TBS. So, I'm looking forward to that.

Greg Raece (30:43): Well, thank you. And-

Michelle Edwards-Lanham (30:44): Yeah, we're looking forward to it too.

Ilse Henne (30:48): That's good.

Greg Raece (30:49): I think this brings us to the end of our podcast, and really, really appreciate the discussion. I know it's been fascinating for me and, Michelle.

Michelle Edwards-Lanham (30:58): Yeah. Yeah. This is really great exploration of where we're at, where we think things might go in the future, and it's been a really, really a good conversation. Thank you, Ilse for joining us.

Ilse Henne (31:12): Thank you for having me. It was a real pleasure talking to you. And I'm looking forward to a moment where I can return to US.

Michelle Edwards-Lanham (31:21): Yes.

Greg Raece (31:21): Yes.

Ilse Henne (31:21): I must say, honestly speaking at the beginning when the corona pandemic hit, there was this relief like, "Oh, we don't have to travel that much anymore," because I used to travel a lot. But now, I'm really to a point where I say, "Please, let me travel again."

Greg Raece (31:37): Yes.

Michelle Edwards-Lanham (31:39): Yes.

Ilse Henne (31:39): So, and particularly coming to see you guys. So, as soon as the vaccines are kicking in, and if this pandemic is under control, I will be very much looking forward to joining all of you. But until then, we can luckily exchange over these new technologies. And it's been a real pleasure being with you guys. Good luck for the future, and make us proud like you always do.

Greg Raece (32:04): Thank you, Elsa.

Michelle Edwards-Lanham (32:05): Thank you.

Greg Raece (32:06): And you are welcome to visit us in Seattle.

Ilse Henne (32:07): I will.

Greg Raece (32:08): It's rainy this time of year, but in a few short months, the sun will be back out again. So, hopefully that's when the vaccine rolls around. And to all of our listeners, I want to thank you for being with us for the Metalpress Podcast. It's been our pleasure, and we look forward to continuing with discussions and talking to everybody later. So, until we meet again, thank you very much. Bye.
Back To Top
---
Other Metalpress Episodes